Post your Casting Call
Create your casting call by either uploading a local video or using a YouTube or Vimeo link so that our actors can get access to details like references, budgets, character profiles, deadlines, etc., also you can upload a timed script to speed up the process and improve the actor's experience.
Let's spread the word
Our subscribed actors will get notified firsthand and we will also share casting calls in our social networks for anyone to join. You can share any of these link with your team, just be sure they have a valid subscription.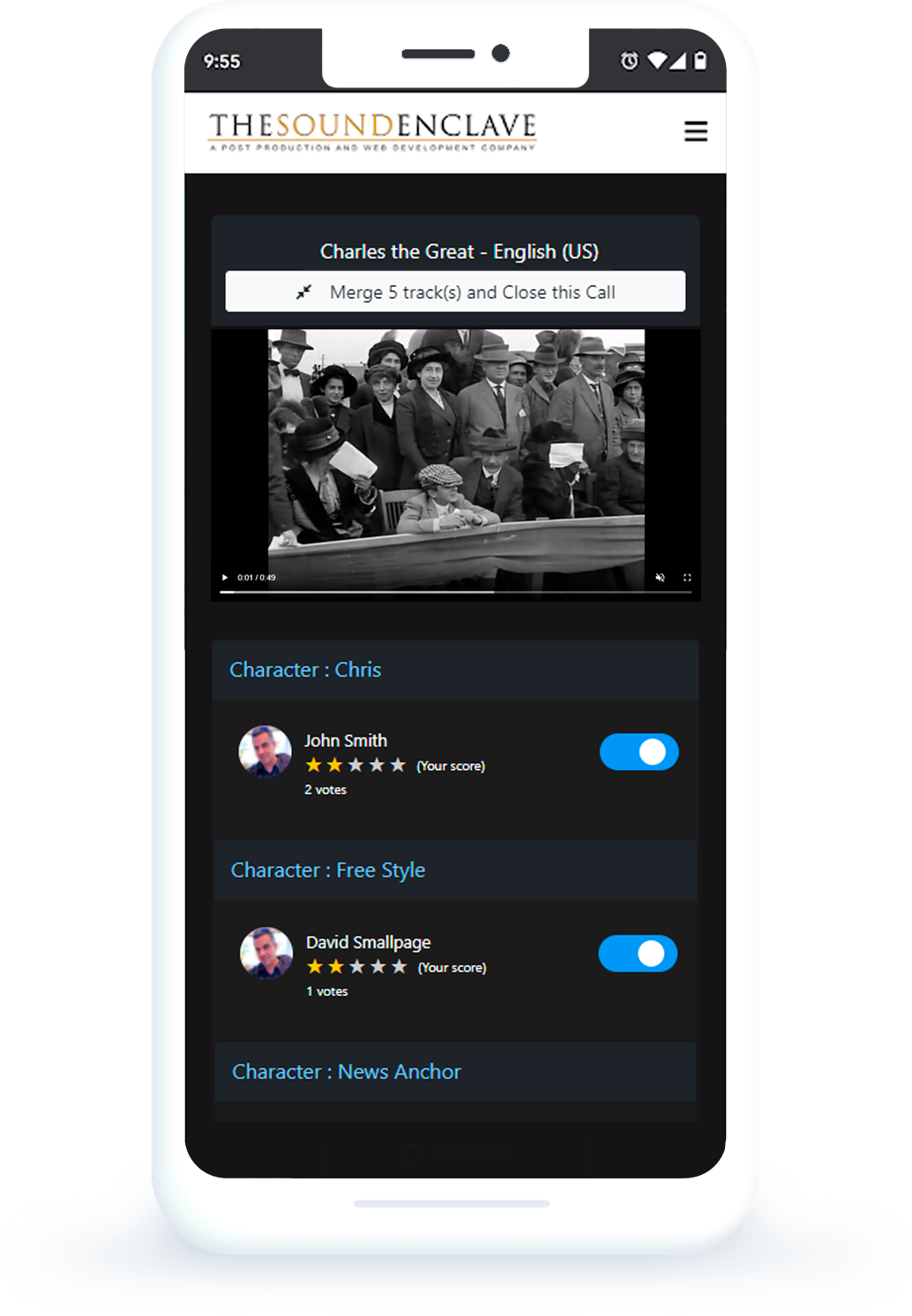 Be surprised
Discover a new world of opportunities and talents with different recording capabilities and evaluate key elements like audio quality, experience and lip sync if needed. Anyone with a good internet connection and a subscription  can participate from a computer or a mobile device anytime, anywhere.
Choose the right ones
Select the casting call and character of your preference. As a producer, evaluate each voice individually or as a group to help decide the best options for your project. Merge the final selection to share it with your team or client and, once approved, simply contact the actors for further details.
Get it for Free - Introductory Offer
We are giving away a limited amount of free subscriptions, hurry up!
What We Do
Years of experience and professional quality at your service.
Mixing 2.0, 5.1 & 360 for Broadcast, Films, YouTube, Facebook and Musical Productions. Sound Design and Foley using premium sample libraries, Dialog Editing, Quality Control, Vocal Comping and Tuning.
Design and development of web pages & applications, e-commerce sites and intranets. CMS based development using Joomla, Wordpress, Magento, etc. Full Stack Developers
Productivity Tools
Occasionally, we create proprietary & useful web applications to increase productivity in the audio industry. From SaaS and intranets to simple recommendations for audio professionals.
Subscribe to our Newsletter
We normally don't send newsletters, but from time to time we do have important news to share about our projects.
Sign up to be the first to know!.